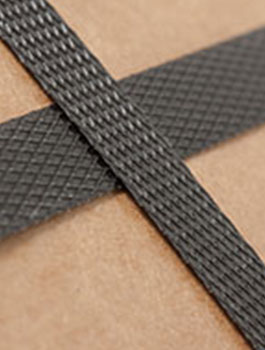 PP straps
For lightweight packaged goods (packages)
Cheap and quick securing of packages
High sealing strength
Versatile (lots of different widths, thicknesses, tearing strengths possible)
Environmentally friendly (plastic instead of textile or steel), 100% recyclable
Suitable for all standard strapping devices and machines
Good quality, very good prices
Strap widths: 5 / 8 / 9 / 12 / 15 / 16 / 19 mm
Thicknesses: 0.35 – 1.0 mm
Tensile strength: good elasticity, resistant to splitting and splicing
Core: 406 / 392 / 280 / 200 / 150 / 62 mm
Colours: black or white – also available in colour (blue, red, yellow)
Tear resistance: Breaking strength: (60-450 kg)
Embossing: available smooth or embossed

Various versions and prices available on request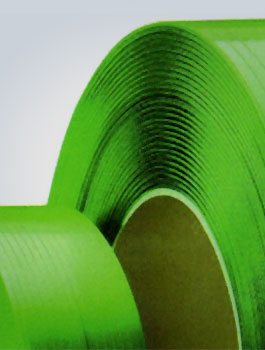 PET straps
Medium and heavy-duty goods
Cheap and quick securing of packages
High sealing strength
Versatile (lots of different widths, thicknesses, tearing strengths possible)
Environmentally friendly (plastic instead of textile or steel), 100% recyclable
Suitable for all standard strapping devices and machines
Good quality, very good prices
Strap widths: 9 / 11 / 12 / 13 / 15 / 16 / 19 / 25 / 32 mm
("Jumbo rolls" for large consumers: 1,100 mm | 66,000 m)
Thicknesses: 0.4 – 1.52 mm
Tensile strength: good elasticity, resistant to splitting and splicing
Core: 406 mm
Colours: green (standard) – also available in colour (blue, red, others on request)
Tear resistance: Breaking strength: (150-1,830 kg)
Embossing: available smooth or embossed

Various versions and prices available on request
Other products:
Flat and blown films
Blown film sections
Cardboard packaging and corrugated cardboard products
Other tapes
Straps
Can we help you?
You can reach us on weekdays between 07:30 and 17:00.
Poly-Pack Verpackungs-GmbH & Co. KG
Zollhausstraße 7
D - 58640 Iserlohn
In addition to strapping made of polypropylene (PP) or polyethylene terephthalate (PET), we offer other straps and sealing systems in various designs and materials, including adhesive tapes and packing tapes. You will receive your tapes with individual printing on request. Sealing systems for our packaging include cable ties, sealing wires, plastic quick ties and rubber bands.